In our first year of trading, we were commissioned to build one-part 3m and 4m diameter hatchery tanks in Shetland. Since then, our work in the sector has expanded throughout the UK – and now across the world. We have moulds/tooling from 1-meter tanks right up to 10.5m diameter hatchery tanks. Our fish processing tanks range from small coned tanks right up to 100m 3 vol tanks. The materials we use is either food grade or special chemical resistant (depending on how it is to be used).
From our workshop in Lerwick, and with extensive experience in this field, we are particularly well equipped to meet the needs of the aquaculture sector. There are few restrictions to what we can achieve.
In addition to creating prototypes and bespoke items, we have an extensive range of existing tooling and moulds from which we can cost-effectively reproduce items, as required. Our products have a long life span, are completely waterproof, are lightweight and maintenance free, are extremely versatile, come with a perfectly smooth surface to which stickers can be applied, and can be supplied in any colour without the need ever to repaint.
What's more, they do not deteriorate in harsh marine environments. And depending on the project, and storage requirement, we can also provide chemical resistant or fire- retardant composites.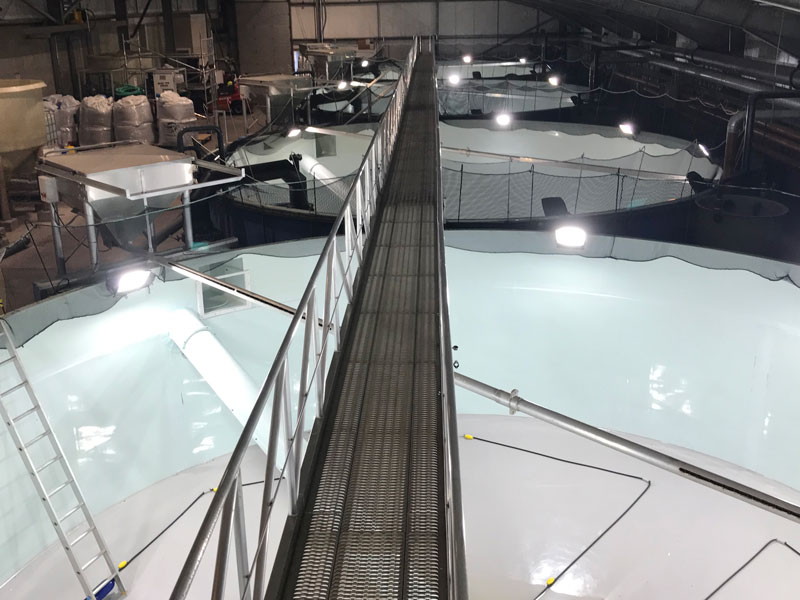 Shetland Composites has been working with the aquaculture industry for many years. As a result, they sometimes already have a mould for what we need – all ready to go – saving us both time and money.